Art & Villains
Nov 16
Mommie Gaugin

Artist: Gaugin
Villain: Faye Dunaway. 
Nov 11
Fear and Carnage in Las Vegas
Artist: Ralph Steadman
Villain: Carnage (Spiderman Universe) 
Nov 02
Bowser's Smile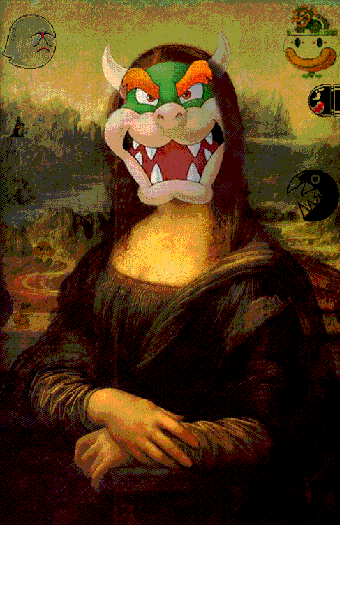 Artist: Leonardo Da Vinci
Villain: Bowser and Co. (Super Mario Bros.) 
Oct 29
Vermeer Dearest
Artist: Johannes Vermeer
Villain: Joan Crawford (Mommie Dearest)
Oct 26
DOINK!
Artist: Norman Rockwell
Villain: Doink the clown (WWE)
Oct 20
Darth Whistler's Mother
Artist: James McNeil Whistler
Villain: Darth Vader (Star Wars) 
Oct 17
The Silence of the Chuck
Artist: Chuck Close
Villain: Dr. Hannibal Lecter
Oct 14
Rembrandt Beagle Boys
 Artist: Rembrandt Harmenszoon van Rijn
Villain: Beagle Boys (Scrooge McDuck Universe) 
Oct 12
Cafe of Pigs.
Artist: Vincent Van Goh
Villain: Pigs (Angry Birds) 
Oct 09
Le Scar Noir
Artist:  Theophile Steinlen
Villain: Scar (Lion King) 
Oct 07
Portal of Relativity
Artist: M.C. Ecsher
Villain: Glados (Portal) 
Oct 06
The Kandinsky Hal 9000

Artist: Wassily Kandinsky 
Villain: Hal 9000 (2001: A Space Odyssey)
Oct 04
The Rat & the Ratigan
Artist: Banksy
Villain: Ratigan (The Great Mouse Detective)

Original Graffiti
Judith's Black Knight
Artist: Gentileschi
Villain: The Black Knight (Monty Python & the Holy Grail)
Haring UFO Invaders
Artist: Keith Haring
Villain: Space Invaders

Original Painting