Why So American Gothic?
Artist: Grant Wood
Villains: The Joker and Harley Quinn
The Liberation of Clubber Lang
(Black History Month)
Artist: Betty Saar
Villain: Clubber Lang (Rocky III)
Big Boy Hopper Caprice

Artist: Edward Hopper
Villain: Big Boy Caprice as played by Al Pacino in the cult classic Dick Tracy
The Ming Scream
Artist: Edvard Munch
Villain: Ming the Merciless
Bowser's Smile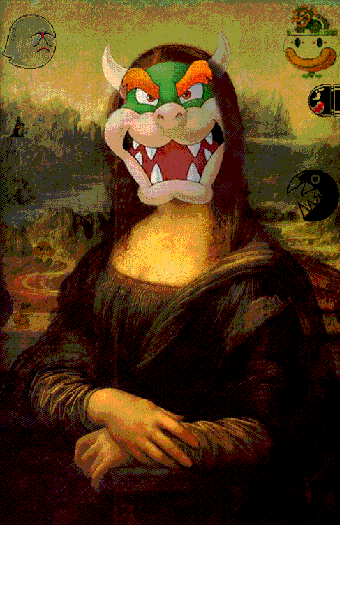 Artist: Leonardo Da Vinci
Villain: Bowser and Co. (Super Mario Bros.) 
Vermeer Dearest
Artist: Johannes Vermeer
Villain: Joan Crawford (Mommie Dearest)
Mr. Burns' Globe
Artist: M.C. Escher
Villain: Charles Montgomery "Monty" Burns
Magritte Work Orange
Artist: Rene Magritte
Villain: Alex (A Clockwork Orange)
Angelica Drowning
Artist: Roy Lichtenstein
Villain: Angelica Charlotte Pickles
You Only Live Twice, Napoleon.
Artist: Jacques-Louis David
Villain: Ernst Stavro Blofeld
Dr. Gatchet Al Ghul
Artist: Vincent Van Goh
Villain: Ra's Al Ghul (Batman)