The Wrath of Khan Dali.
Artist: Salvador Dali
Villain: Khan
Why So American Gothic?
Artist: Grant Wood
Villains: The Joker and Harley Quinn
Mommie Gaugin

Artist: Gaugin
Villain: Faye Dunaway. 
Fear and Carnage in Las Vegas
Artist: Ralph Steadman
Villain: Carnage (Spiderman Universe) 
Bowser's Smile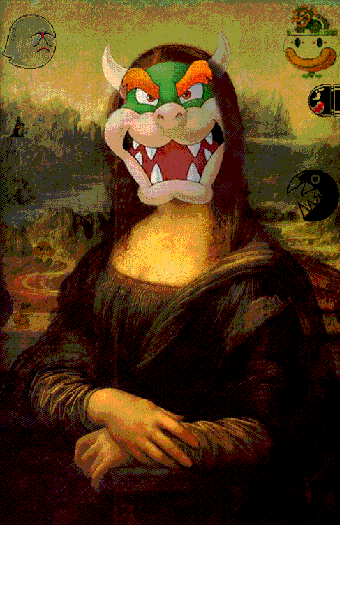 Artist: Leonardo Da Vinci
Villain: Bowser and Co. (Super Mario Bros.) 
Vermeer Dearest
Artist: Johannes Vermeer
Villain: Joan Crawford (Mommie Dearest)
DOINK!
Artist: Norman Rockwell
Villain: Doink the clown (WWE)
Darth Whistler's Mother
Artist: James McNeil Whistler
Villain: Darth Vader (Star Wars) 
The Kandinsky Hal 9000

Artist: Wassily Kandinsky 
Villain: Hal 9000 (2001: A Space Odyssey)
Mr. Burns' Globe
Artist: M.C. Escher
Villain: Charles Montgomery "Monty" Burns
The Ballad of the Jealous Freddie of Lone Green Kruger Street
Artist: Thomas Hart Benton
Villain: Freddie Kruger (Nightmare on Elm Street)